THE AGE
Inaugural billboard art prize awarded to Melbourne artists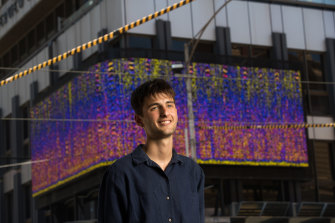 Daniel Kotsimbos, joint winner of the inaugural Fivex Art Prize.

CREDIT:

JASON SOUTH
Artist Daniel Kotsimbos sees the city as a giant instrument that is played by all who interact with it. "Everyone contributes to these sounds in some way, we all play into this pattern," he says.
Kotsimbos and Catherine Clover are the joint winners of the inaugural Fivex Art Prize: Billboard Art Reimagined and will share $30,000 in prize money.
In a year when many of our realities revolved around an online existence, it seems an appropriate prize: the first for an artwork designed for a digital billboard.
Their works will be displayed on billboards opposite Flinders Street Station, on the corner of Elizabeth and Flinders Streets, until the end of January. All six finalists' work will be on show, the four runners-up – Kent Morris, Deborah Kelly, Phi Do and Magdalene Carmen – each won $1000. They were selected from 520 entries by photographers, graphic designers, street artists illustrators and architects around the country.
Kotsimbos' winning entry Peak Frequency is a visualisation of a sound recording, taken at the corner of Flinders and Elizabeth Streets. The 23-year-old says it was recorded before COVID hit, at peak hour on a weekday. The idea of the piece is to make people more aware of the world around them.
"You see the sequenced nature of the environment," he says. "You see patterns and try to read it like a graph, things like trams going past every 8 minutes, traffic light signals triggering and bouncing…"
"I wanted it to feel almost hypnotic, for it to feel not like data, so it looks like sunset, that's why I chose that pallette. It does show that there's quite a lot of noise pollution. It really is taking the noise of the city and showing it for what it is; it's a grid."
Kotsimbos works in what he calls transitory media, through event or site specific installations. His next work is called Data Sonification, in which he converts data into sound.
Co-winner Catherine Clover's work imagines a conversation between two birds, a native, the Red Wattle Bird or yan-guk in Woi Wurrung, and an introduced bird, the Common Starling, which the English brought to Melbourne in the 1860s. Both are still common birds and Clover argues the sounds made by the newcomer would surely have influenced the original inhabitant. "Like we do, songbirds learn their language; it is not innate," she says.
Part of her prize money for the work, called Song Cycle, will go to the Pay The Rent Initiative, which seeks to financially recognise the ongoing trauma of colonisation.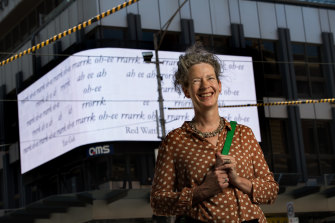 Catherine Clover's piece Song Cycle is centred on the phonetic words used by bird field guides to approximate the bird songs of the Indigenous Red Wattlebird and the introduced Common Starling,

both local to Melbourne's CBD.

CREDIT:

JASON SOUTH

Clover works with sound and language and is interested in inter-species communication. "As humans we tend to use this idea of complex language as a very human skill that other creatures don't have, which I like to question in my art. Often I am writing scores – you could say these work are scores."

The artworks will be displayed regularly throughout the day, alongside that more conventional billboard content: advertising. Both are experimental and their geographical location means they are visible to a broad audience. Clover likes the fact her artwork is mixed in with advertising. "The word art can put people off, all these associations of it being exclusive, 'that's not for me'. People can just have the experience, that's the beauty of it."

"What I'm hoping is people are wandering around the city going about their daily business, going 'Rrorrk Ah Ee Ah'" she says, mimicking brilliantly the sound of Red Wattle Bird. "Kids of course are the most willing to do this sort of thing, whereas adults tend to a bit more reluctant."